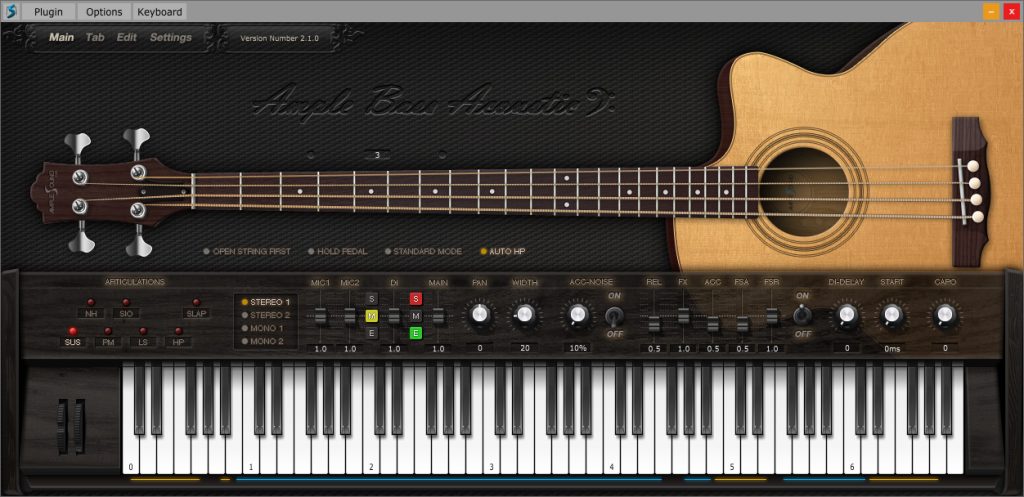 Ample Bass Acoustic is a virtual acoustic bass instrument based on samples of a Guild B-54 CE Acoustic Bass.
Samples:
– ABA has a 4.89 GB sample library which is naturally recorded on every single fret. No destructive editing and dynamic processing are applied.
– Features 8 articulations: Sustain, Palm Mute, Natural Harmonic, Hammer On & Pull Off, Legato Slide, Slide in & out, Pop & Slap and Dead Note.
– The Legato articulations can be used to achieve legato notes of any duration, pitch and polyphony.
– Alternate Tuning. Ample Bass supports alternate tunings to the lowest note B0.
Features:
– New sample engine applied to both plugged and unplugged
ABA is designed from the ground up to be the most versatile bass virtual instrument available today with a new level of expressiveness. ABA not only performs as an extraordinary acoustic instrument by playback partially from mic samples, but also as an electric instrument by playback partially from DI samples, creating a more dynamic and subtle playing experience.
Furthermore, users can mix and process Mic and DI separately to get a variety of sound.
– Multiple stereo and mono modes
For Mic part, ABA provides two stereo and two mono modes. Users can adjust volumes of mics and width to get more options in stereo mode, in which ABA has rich expressiveness even for solo. For mono modes, ABA can play an important role of middle-low end in a band steadily.
– New designed EQ
New designed EQ can process Mic and DI channels separately. By highlighting strong parts while avoiding weak parts, it can further refine sound.
– Tab Player
Redesigned Tab Player for bass tab. All articulations and notations are supported by the tab player. Realistic Tab playback can be achieved through fine parameter adjustments and humanizations.
WIN

MAC