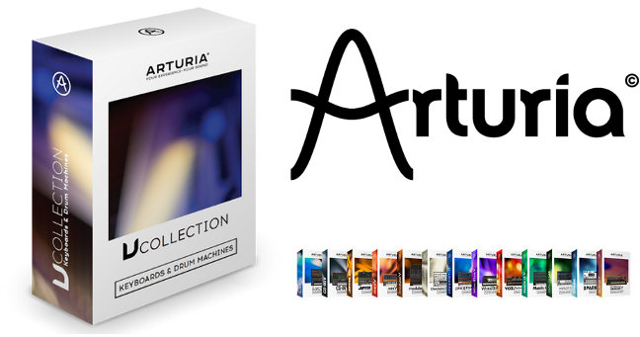 V Collection Turns 4
A synth lover's dream come true, Arturia's V Collection 4 bundles an entire arsenal of glorious vintage synths in one amazing package. These virtual synthesizers don't just sound similar to their namesakes – they're spot-on re-creations of sought-after instruments from the '60s, '70s, '80s, and beyond. So prepare to be completely blown away by the beautifully realistic sound of some of the most well-known and coveted synths of all time. Covering everything from stinging leads and rich pads to fat bass and vintage drum sounds, the V Collection 4 is like a best-of list of electronic instruments. In short, virtual renditions of many of the most sought-after analog keyboard instruments and drum machines of all time are all here in Arturia's V Collection 4.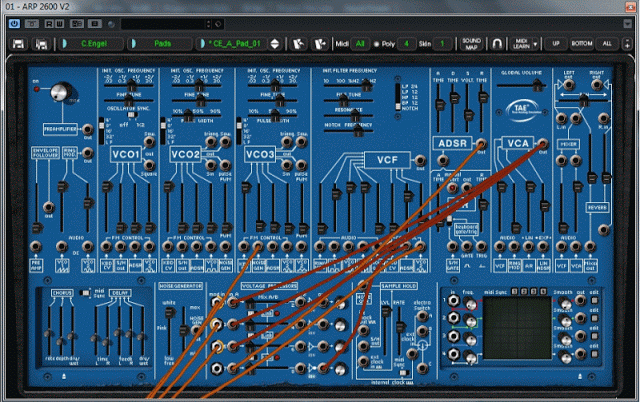 Arturia V Collection 4 at a Glance:
What's new in version 4
Your go-to source for analog keyboard sounds
Spark 2.0: your one-stop-shop for vintage drum sounds
What's new in version 4
Arturia V Collection 4 includes upgraded versions of all software instruments with many improvements. It rocks four new killer instruments: Matrix 12 V, Solina V, Vox Continental V, and Spark 2. On the housekeeping side, you get compatibility with the latest formats and hosts on Mac OS and Windows, along with hassle-free registration via Arturia's Software Center (ASC). V Collection 4 makes it easy to enhance your DAW (or incomplete software bundles) with stunning sounds, classic keys, and wonderful new beat making mojo. Take it from Sweetwater – whether you're a producer, sound designer, composer, DJ, or gigging musician, if you demand superior sounds and access to a beefy keyboard and drum machine library, Arturia's V Collection 4 is just what you need to juice your musical creativity.
Your go-to source for analog keyboard sounds
Analog enthusiasts, get ready for all the parameter tweaking and patch manipulation your heart desires, because V Collection 4 takes you back to the glory days when analog technology reigned supreme. There's a world of synth sounds onboard, including 12 Arturia award-winning software keyboards: Mini V, Modular V, CS-80V, ARP-2600 V, Prophet V, Prophet VS, Jupiter 8-V, Oberheim SEM V, Wurlitzer V and the newest additions, Vox Continental V, Solina V and the Oberheim Matrix 12 V. In addition, you get Arturia's own Analog Lab software, and the full version of Arturia's unique drum program, Spark 2.0. When you consider that all these original hardware designs would cost you a small fortune – and still lack the added bonuses these great software re-creations provide, V Collection 4 is one of those values that's simply too good to pass up!

Spark 2.0: your one-stop-shop for vintage drum sounds
You'll also find a world of tasty vintage drums in V Collection 4. Arturia's Spark 2.0 drum program is designed for performance and killer sound and gives you more than 170 drum machines and over 5500 patterns ranging in genre from Hip Hop to contemporary EDM. You get the best-of-the best, including the iconic Roland TR-808, TR-707, TR-909, and CR-78, the Korg KPR-77, the LinnDrum, the Yamaha RX5, the Maestro Rhythm King MKII – and more! You also get an intuitive, easy-to-program interface and a dedicated mixer with 14 great-sounding effects.
Arturia V Collection 4 Features:
An industry standard collection of legendary sounds and creative possibilities
Includes 13 software instruments, 170 drum machines, and 6000 keyboard sounds
Accurate emulations of legendary analog synthesizers
You get all the features of the original synths, plus:
Modulation Matrices
New filter types
Step sequencers
Keyboard split and layer
Innovative modulation sources
Smart preset management
Additional effects
Arpeggiators
Arturia's amazing-sounding True Analog Emulation technology (TAE)
Smart Preset Managers to organize presets: view by name, instrument, type, and project
Photo-realistic interfaces that perfectly resemble the original hardware
Extensive modulation, effects, arpeggiators, and polyphony from two to 32 voices
Includes printed English manuals and V Collection 4 installer on USB flash drive
Arturia V Collection 4: your treasure trove of classic analog instruments!
Tech Specs
Software Type Analog Synth Bundle
Platform Mac, PC
Upgrade/Full Full
Download/Boxed Download
Format Standalone, VST, AAX, AU
Hardware Requirements – Mac 2GHz CPU, 4GB RAM
Hardware Requirements – PC 2GHz CPU, 4GB RAM
OS Requirements – Mac OS X 10.8 or later
OS Requirements – PC Windows 7 or later
Manufacturer Part Number 220501_D
Arturia Analog Lab v1.2.4.126
Arturia ARP 2600 V2 v2.7.0.76
Arturia CS-80 V2 v2.7.0.76
Arturia Jupiter-8 V2 v2.7.0.76
Arturia Matrix-12 V v1.2.0.76
Arturia Mini V2 v2.7.0.76
Arturia Modular V2 v2.8.0.76
Arturia Oberheim SEM V v1.4.0.76
Arturia Prophet V2 v2.7.0.76
Arturia Solina V v1.1.0.76
Arturia Spark v2.2.0.76
Arturia Vox Continintal V v1.2.0.76
Arturia Wurlitzer V v1.2.0.76