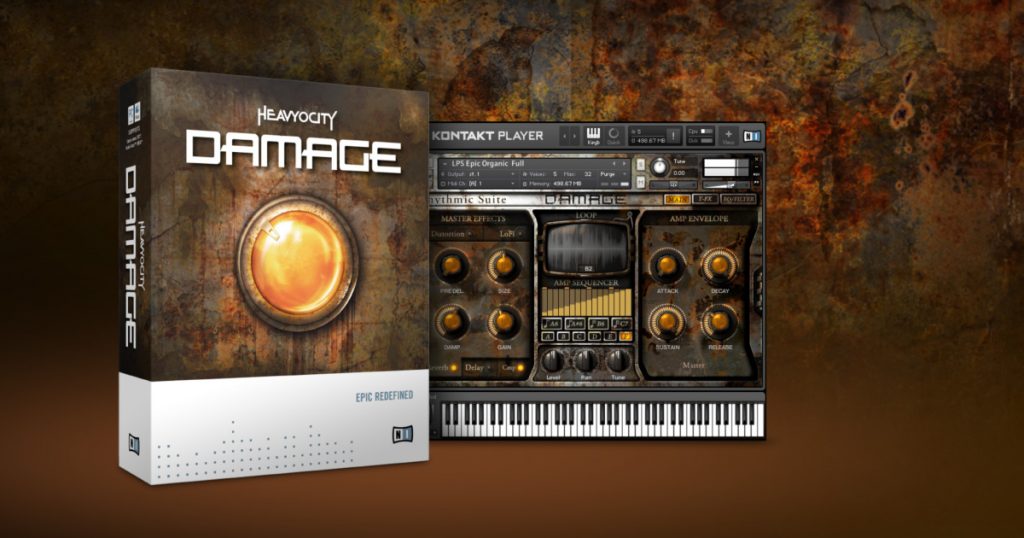 Epic Redefined
Dark, aggressive, thrilling and threatening — DAMAGE is breathtaking cinematic percussion with a tense, epic edge. It is a unique instrument combining orchestral percussion, incredible sampled sounds and edgy electronics. Designed to inspire, and powered by the Free Kontakt Player, DAMAGE delivers jaw-dropping quality in a powerfully intuitive and easy to use interface. Create dramatic, wide-screen tension with the devastating impact of DAMAGE.
DAMAGE gives you 30 GB of drama, fusing industrial sounds and orchestral drums into a devastating electro-acoustic barrage. Percussive Kits provide more than 200 deeply sampled percussion sources, and over 500 single-shot elements, recorded in up to seven velocity layers and with up to nine round-robins per drum.
DAMAGE integrates seamlessly with your DAW, with a compelling workflow to hotwire your creativity. The spectacular user interface was specifically designed with the composer and sound designer in mind. Tempo sync is automatic, and exporting a loop's MIDI data to your sequencer is simply drag-and-drop.
Get results fast with integrated keyswitches for playing effects and remixing loops on the fly, and create instant trailers with the unique 'Damage Hits'. Then, dial up the 'Punish' knob to pile on the pressure.
For DAMAGE, we recorded traditional percussion, premium snares and toms, and an assortment of wooden and metal objects. Then, we set out to capture more obscure sound sources, including exploding cars, cranes, a junkyard, a dumpster, and large objects dropped from great heights.
Instrument details
The sound of DAMAGE comes from loops, kits, and effects. All loops and kits are designed for seamless layering and maximum flexibility, and loosely classified in four styles: Epic Organic, Epic Tech, Industrial Electronic, and Mangled Pop.
Loops
DAMAGE provides Loop Menus and Single Loops. The Loop Menus are matched loops, mapped intelligently across the keyboard, for quickly creating tempo-synced grooves. Mix and match loops across different styles to create unique, layered rhythms.
Single Loop presets combine detailed control and intuitive playability – tweak level, pan, and tuning for each slice, and use key-triggers to randomize, freeze, drop or reverse slice playback in real-time.
Kits
DAMAGE offers 58 multi-sampled drum kits, constructed from more than 200 deeply sampled percussion sources and over 500 individual single shot elements. These hybrid kits combine percussion instruments and sampled objects to devastating effect, injecting power and personality into any production.The unique 'Damage Hits' consist of layered impacts and tails that can be controlled independently via the modwheel, perfect for stings and transitions.
Effects
Three levels of effects are intrinsically bound to the loops and kits – apply effects globally, trigger performance effects, or tweak individual sounds.
Master Effects control distortion, reverb, delay, drive, and more
Trigger FX (pictured here) are switchable real-time effects with incredible scope for intuitive, creative sound-mangling.
The EQ and Filters provide simple but effective fine-tuning per drum, and presiding over everything is the Punish Knob, for signature drive and character – just dial-in the heat as required.
Requirements: Kontakt 5.01 or higher.
Installation: Unpack, burn or mount, install, have fun & buy it if you use it.
Note: you will need both disks for installation.