Ensemble Engine based Scoring Tool – Massive Hybrid Twin to The Orchestra
What is future? How does your universe sound? What does infinity mean?
Elysion is our big answer for big questions! A huge and incredibly fast scoring tool, perfectionated to fill the space with inspiration. Score the future and experience the infinite sound cosmos, Elysion unfolds just on a fingertip.
Elysion is built on handcrafted processed and synthesized sounds, treated like acoustic instruments
Elysion sets a high level for hybrid composing: incredibly simple and outrageously beautiful.
Elysion is the massive hybrid twin to The Orchestra
Elysion contains 142 playable instruments and over 230 complex animated themes.
Crossgrade Available: For owners of "The Orchestra", "String of Winter" or "The Orchestra Complete"!
Built on Handcrafted, Synthesized Sounds bursting of Expression and Variety
As the first one able to catch the incredible dynamic and lively character of synthetic instruments, Elysion redefines sampling. We recorded, sampled and produced our synthesized future-sounds, treating them like acoustic instruments. This results in an unimaginable dynamic and unprecedented sound. Integrated into our pathbreaking ensemble engine, Elysion forms the new massive hybrid twin to The Orchestra.
A Whole New Experience
Elysion is made to expand the range of our flagship The Orchestra into and beyond the digital era. Together, they set a new level of hybrid composing: incredibly simple and outrageously beautiful.
Experience the simplicity of 142 instantly playable hybrid organic instruments.
Experience the infinite depth of over 12.500 samples, all carefully recorded, handcrafted and layered with up to 5 velocity layers.
Experience the flexibility of over 230 complex animated and fully customizable themes.

Score the Future with our Familiar User Interface
User Interface is the advanced progression of the highly-acclaimed UI from THE ORCHESTRA. The most essential controls are easily and quickly accessible to keep you focused on your creative scoring.
Powerful Features – Supernatural Workflow
Elysion brings numerous new functionalities to our critically acclaimed ensemble technology.
Samples Synthesized Instruments – Up to 3 Round Robins and 5 Velocity Layers deepen the dynamic of our carefully handcrafted synthesized instruments, providing an extreme expressiveness: Every layer is carefully designed to correspond and even outdo to the immense liveliness of real instruments in timbre, impact and intensity.
Ensemble Engine 2.0 – For Elysion we reworked our critically acclaimed ensemble engine, which lets you play and customize up to five instrument modules simultaneously. Within every module you are now free to control it via envelope or arpeggiator. You can now even morph between two Layers in both the Arpeggiator and the Envelope, which lets you control up to 10 interleaved rhythms within one patch. An additional stutter feature enriches the possibilities of our Envelope even more and lets you create extremely complex rhythms by only using sustained instruments.
Motion Engine – Elysion comes with its own unique dynamic FX engine. It allows to customize the instruments fundamentally, steering e.g. attack or decay via Midi CC. Besides other FX the Motion Engine includes also two Pan Steppers, breathing live and variation into every pattern in no time.

Maximize Your Creativity
Elysion comes well prepared for instant inspiration and composing with 230 complex animated and fully customizable themes for the ensemble engine. Every theme is arranged out of five controllable instruments within our ensemble engine, providing you an enormous influence on the sound.
Shimmering Spheres – Spheres are lively and sustained themes with an enormous dynamic range. Simple keystrokes and chords yield a rich futuristic ensemble sound, each one with a different interpretation of the futures tone.
Powerful Pulses – The synthesized pulses contain rhythmical patterns, providing an extremely large range of different timbres and styles. From simple and incredibly useful rhythms to inspirations completely out of the box.
Animated Themes – The animated synthesized themes go even further and create complex and diverse ensemble rhythms from any played note. This is where the future starts!
Export Your Custom Performance with MIDI Drag'n'Drop
Once you have been inspired by a theme, drag and drop the arrangement of your performance to your DAW. Now you are free to use it within every library you own. Unleash the power of the ensemble engine onto your personal template, change notes, combine different patterns and make them your own. Experience the incredible efficiency of Elysion and The Orchestra merging together within your DAW
Key Features
Sampled Synthesized Instruments, containing up to 3 Round Robins and 5 Velocity Layers
Refined Ensemble Engine 2.0 with new, powerful functionalities
Unique Motion Engine allowing fundamental customizations
Massive hybrid twin of THE ORCHESTRA for a new level of cinematic composing
Over 230 complex animated and fully customizable themes, featuring up to 5 fully controllable instruments
Over 142 instantly playable hybrid organic instruments
12500+ individual samples. All carefully recorded, sampled and handcrafted
MIDI-Export: Unleash the power of the ensemble engine onto your personal template
"Elysion" was developed for Best Service by Sonuscore / Dynamedion, the makers of The Orchestra, Trinity Drums as well as NI Action Strings, Action Strikes and Emotive Strings.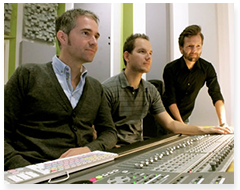 Dynamedion was founded in 2000 by Tilman Sillescu and Pierre Langer, two composers with university degrees in music. With a steadily increasing number of contracts and growing customer base it has since become a leader in soundtrack composition and sound design on the European computer game market. In 2005 Dynamedion produced highly successful, first benchmark live orchestra recordings for a German game soundtrack, setting the standard for large-scale projects in the industry. With numerous further productions for the video game industry, Dynamedion has earned itself a reputation for unsurpassed quality and integrity in this area.
Elysion works with NI Kontakt and Free Kontakt Player Version 6.1.1 and higher!