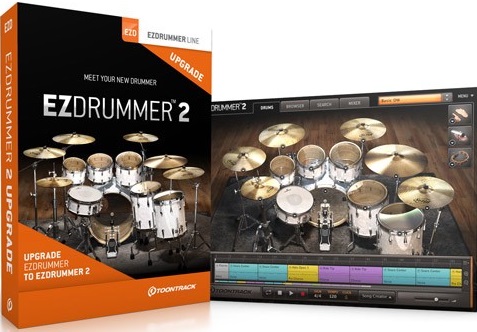 EZdrummer 2 takes drum production to a whole new level. It was designed to erase any technical barrier between you and your creativity and introduces several groundbreaking features for quick and easy songwriting. In EZdrummer 2, you can go from initial rhythmic idea to finished, mixed and customized drum track without ever leaving the program. This is without a doubt the best sounding, most intuitive and creatively gratifying software environment for drum production on the market – a perfect marriage of sound, form and function.
Welcome to a new era of drum production for songwriters. Meet your new drummer!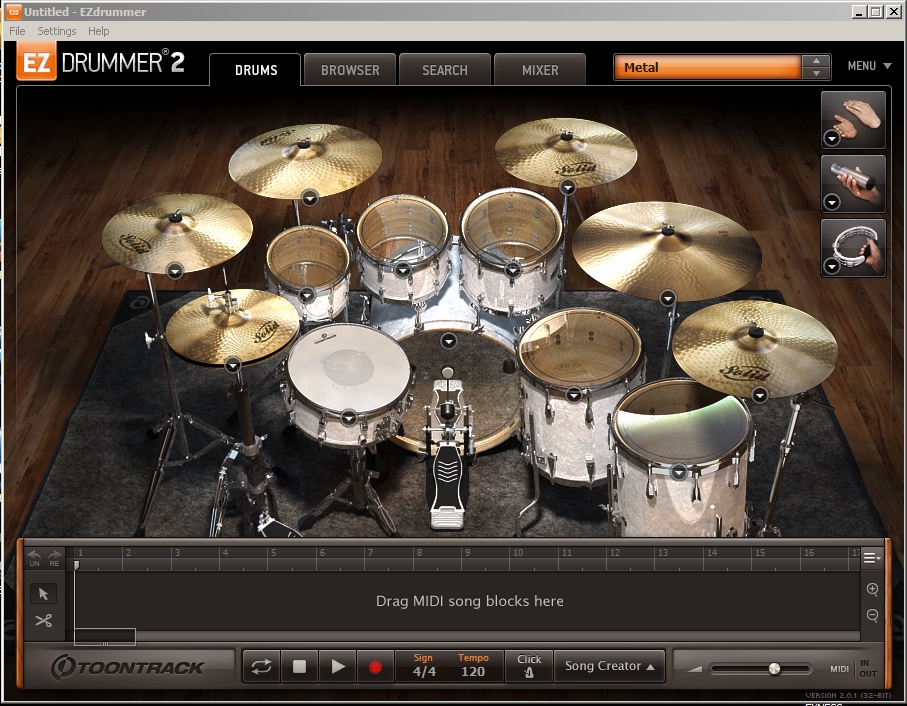 FEATURE SPOTLIGHT
Tap to find your groove
Add percussion on the fly
Customize any groove in real-time
Write an entire drum track without leaving the program
Two sound libraries with five (5) kits in total
Powerful audio engine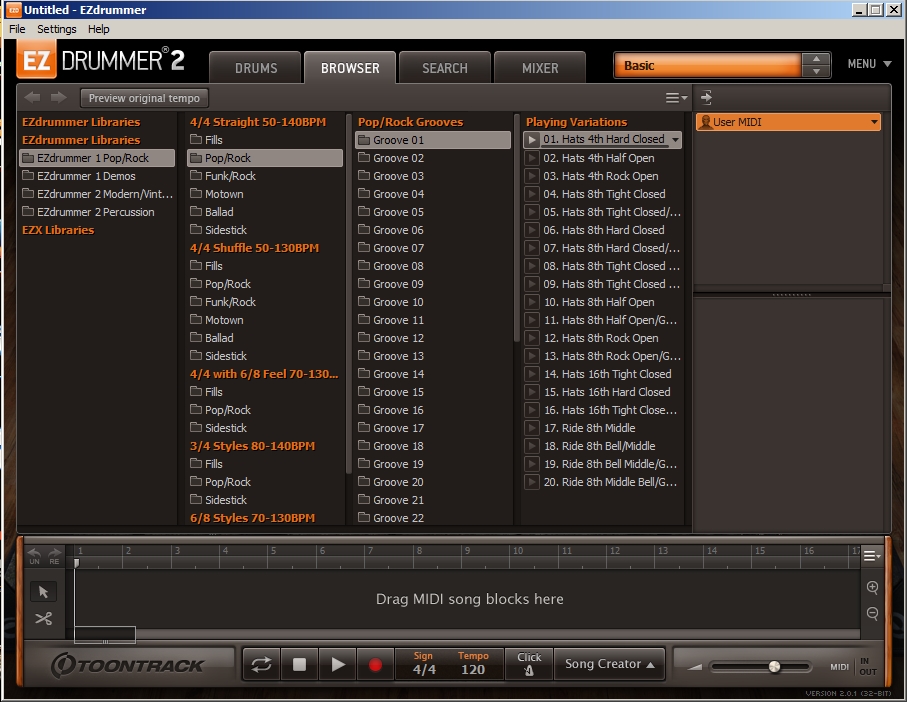 FIND & GET YOUR GROOVE DOWN
EZdrummer 2 introduces several features when working with MIDI drum grooves. Tap or record your rhythm to find a matching groove, search by filters or browse the traditional way in the conveniently laid out MIDI browser.
TURN IT INTO A SONG
Go from initial rhythmic idea to full track! Drag and drop drum parts to build your own track directly in the program – or let EZdrummer 2 do it for you! If you drop a groove in the Song Creator, it will list all files with a similar feel and style. It will also let you lay out a complete track using included or user created song templates.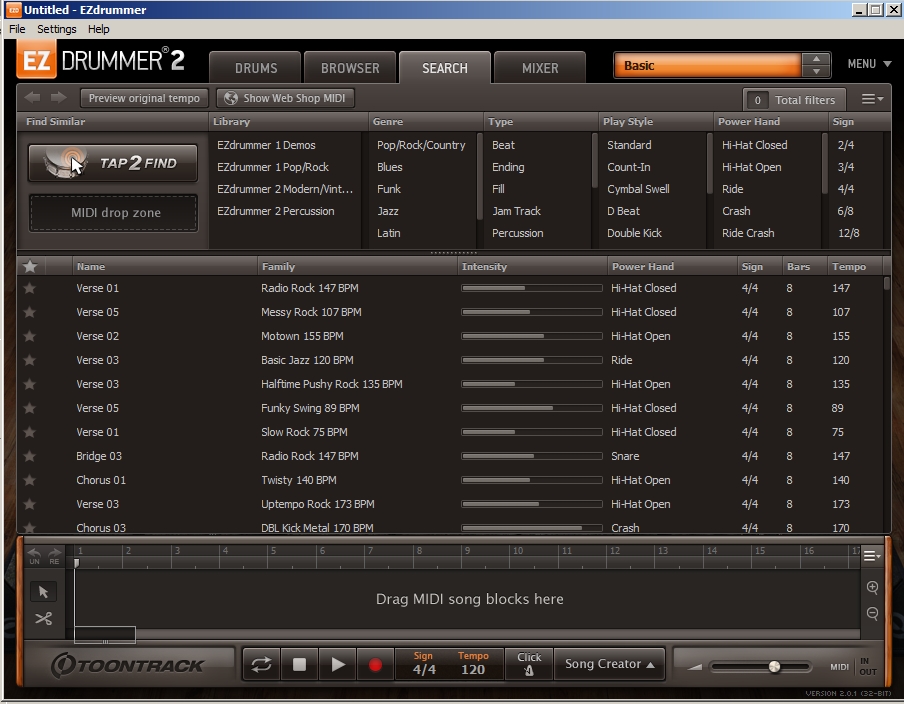 TALK TO YOUR DRUMMER
For the first time ever in a drum software setting, you can now "communicate" with your drummer. Use the Power Hand to instantaneously change the leading instrument or the Amount or Velocity knobs to control the complexity and velocity in your selected groove – while it's playing!
EMBELLISH YOUR SOUND
Done with your track? EZdrummer 2 has a wide selection of ready- made, user controllable effect chain presets to ensure that the final mix sounds exactly right for your song.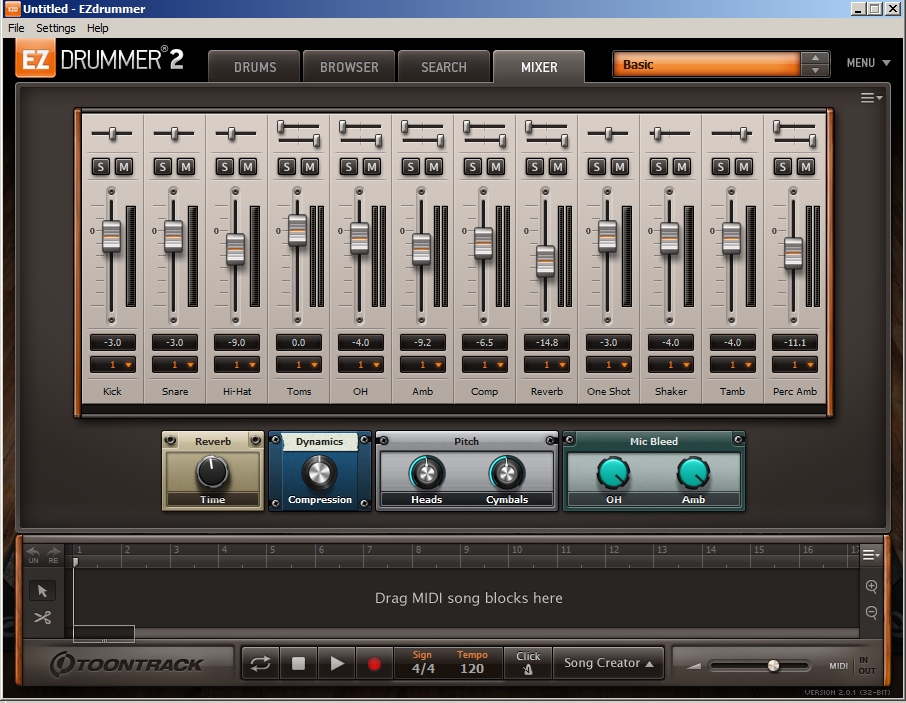 SONGWRITING – EZDRUMMER 2
Got and idea for your next song? Mike shows you EZdrummer in a songwriting situation.
PRESS EVENT AT BRITISH GROVE
In February 2014, we invited the music industry press for a private demonstration of EZdrummer 2 and all its new features. On location, where the sound libraries were recorded, at the British Grove Studios in London, England.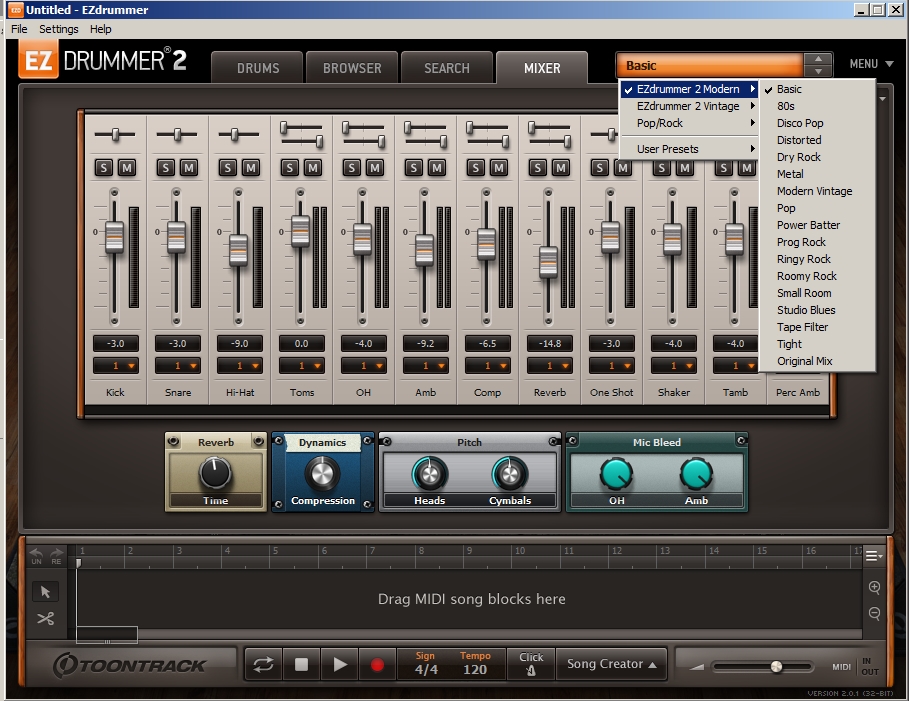 วิธีติดตั้ง
1.ติดตั้ง หรือ อัพเดทซอร์ฟแวร์
2.รันKeygen และเลือกโปรดัค EZ Drummer2
3.Patch ไฟล์ .Dll ในโฟลเดอร์ที่ติดตั้งVST
4.เปิดโปรแกรม EZ Drummer2
5.เลือก offline activation.
6.กดCopy ComputerID ไปใส่ใน keygen.
7.กดGenerate Serial Number และกด Authorization File จะได้ไฟล์R2RAUTH.ttauth
8.นำเข้าไฟล์R2RAUTH.ttauth Register and Enjoy!